Of all of the destinations to consider for a Greek Aegean adventure, famous Santorini with its cobblestone streets and whitewashed buildings overlooking the turquoise sea may be the first to come to mind. And it's just as lovely as you might imagine. But Greece has a whopping 227 inhabited islands to explore. Island hop with us to take in the sights, sounds, tastes and smells unique to the diverse islands. From enjoying a morning dip in the impossibly blue sea to exploring ancient ruins, and savoring decadent homemade baklava while chatting with friendly locals drinking the local citron liqueur, all of your senses will be as on fire as a stunning Grecian sunset. Here are four islands that we can't get enough of.
Crete
Greece's largest island and the birthplace of none other than Zeus, consistently sunny Crete has decent-sized peaks and beautiful beaches all around. Elafonisi Beach, for example, has contrasting clear blue waters with pretty pink sand – a sight so visually stunning that it's consistently ranked as one of the most beautiful beaches in the world. But Crete also happens to have the most ancient of ancient architecture, created by Europe's very first urban culture. The archaeological site of Eleutherna contains the remnants of people that lived here as early as 970 B.C. 
A leisurely spot to people-watch and sip a coffee in west Crete is the Venetian Port of Chania, built by the Venetians over a period of 300 years, starting in 1320.  But if you are in the mood to walk, try the Cretan capital of Heraklion, a town dotted with Venetian and Ottoman architecture, home to the most complex and massive Minoan Palace of Knossos (the size of two football fields!).  It dates back to 1700 B.C, and according to Greek mythology, architect Dedalos designed the palace to be so complex that anyone who entered would not be able to find his way out. The Minotaur (half man, half bull) was even supposedly imprisoned in a labyrinth underneath the king's palace before Theseus killed him. Excavation began towards the end of the 19th century and accompanied by our private guide on our cultural walking trip, we are now finally able to get an idea of the full scale of the courtyards, private apartments, and baths here. 
Crete is a foodie paradise with excellent cheese, honey, and olive oil, as well as an abundance of mouth-watering goat, rabbit, and smoked-pork dishes. Throw yourself into local culture and consider celebrating your Greek odyssey with a shot or two of raki. Yamas! (That's how you say "cheers").
Mykonos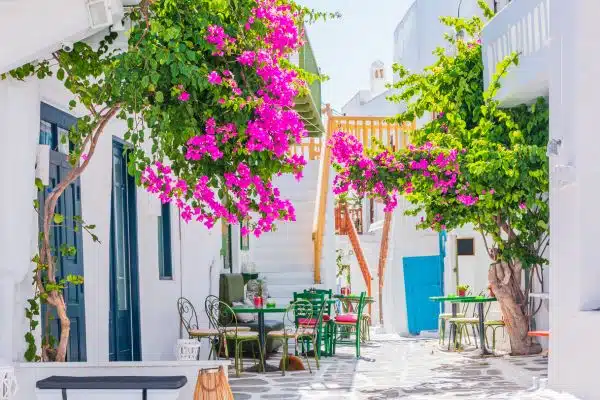 Mykonos is well known for its superyachts and iconic glitzy nightlife where literally anything goes – it's one of those hedonistic places you just need to experience once in your life. But there are also picturesque villages, shopping, and unpretentious beach shacks for slow and simple lunches of colorful salads and juicy lamb chops.
One of the most photographed places in Europe is Little Venice, a romantic bohemian neighborhood made of old houses perched precariously on the edge where land meets sea. Many highly-acclaimed artists have called Little Venice home and used the relaxed seaside ambiance as a muse for their work. Right across the bay are the Mykonos Windmills, used to grind grain into wheat and barley flour from the 1500s and up to the first decades of the 20th century. They are for Mykonos what the Eiffel tower is for Paris. Mykonos is one of the Greek islands that are windy almost all year round – quite convenient in summer to help keep cool. 
Another instantly recognizable architectural structure on the island is the Paraportiani Church. Mykonians are proud to tell you that their island has 365 churches – one for each day of the year. But it's evident that Panagia Paraportiani holds a special place in their heart. Sitting in central Chora, this whitewashed church from the Byzantine era is actually five churches constructed together. From the main entrance, the views of the Mediterranean are breathtaking, and at sunset, the changing light makes the church structure especially Instagram-worthy.
Paros
Paros offers a good middle ground between the trendy, somewhat posh side of Mykonos and the cute inland villages and tranquil beaches of Naxos. An artist's paradise, some of the best-known sculptors, painters, and poets of ancient Greece come from here. In the Classical Greek Period, 'Parian marble' was highly sought-after for use in architecture and sculpture (think the Venus de Milo).
Paroikia is the island's capital with a lively seaside vibe. Alleys of the old traditional village spring to life with visitors meandering along, talking with shopkeepers, or enjoying their meals in tavernas and restaurants. A must-visit is the church of Panagia Ekatontapiliani, an impressive building dating to the Early Christian Period in Greece. The original church was constructed in the 4th century with some murals dating to the 7th – 8th century. Its layout is like a monastery, with a courtyard, monastic cells, and impressive chapels in it.
Another unmissable place to experience while perusing Paros is Naoussa, a picturesque fishing village with a half-sunken Venetian castle by the harbor. Think vibrantly colored fishing boats contrasting with iconic white-washed houses alongside bustling fish tavernas and bars. 
Naxos
Quiet Naxos has landscapes that have hardly changed for millennia, including a beach for every taste. Over on the west coast, you have miles of coastline of powdery sands with shallow, warm waters. Kastraki, for example, is set between Mikri Vigla beach (an adrenaline junkie's dream with epic windsurfing and kitesurfing) and the white sands of the EU Natura 2000-protected Alyko cedar forest. Head south and you'll have Plaka's impressive dunes to explore by foot or horseback.
If you tire of playing on the shore, there are dozens of sleepy villages to get to know. We love to take our guests on a countryside walk near the white-washed village of Kourounohori where there is an ancient marble quarry with the unfinished statue of a kouros thought to be 2500 years old. Kouros is the modern term for basically any free-standing Ancient Greek sculpture that depicts a young nude male, thought by some to represent the god Apollo.
Speaking of Apollo, pay your respects to this Olympian deity who was considered to be a god to practically everything including music, poetry, art, prophecy, truth, archery, plague, healing, sun and light at the Temple of Apollo. It's a huge marble gate made of four marble parts weighing about 20 tons each from an unfinished temple from 530 BC. It's Naxos's main landmark and one of the best places to catch a sunset on the island. Not to be outdone, Demeter, goddess of harvest and fertility, has her own 6th-century BC sanctuary dedicated to her that you can visit. And what better way to honor the goddess of harvest than by bringing some kitron, the local citron liqueur, and artisanal cheese from the nearest village to snack on? No wonder Herodotus once described Naxos as 'the happiest of islands'.
Ready to Island-hop with Classic Journeys? Join us in the Greek Isles for the trip of a lifetime. Contact our Travel Experience Specialists today to secure your spot on an upcoming tour.